Jakarta, Indonesianpost.com – Indonesia supported the recent adoption of a United Nations resolution on violence against religious symbols or books that constitute a violation of international law, according to the permanent representative of Indonesia to the UN, Arrmanatha Nasir.
On July 25, 2023, the UN General Assembly adopted a resolution entitled "Promoting Interreligious and Intercultural Dialogue and Tolerance in Countering Hate Speech."
The resolution was drafted by Morocco and co-sponsored by 47 countries, including Indonesia, Malaysia, and the Philippines, as Nasir told ANTARA on Wednesday (July 26).
The resolution was adopted in the wake of multiple burnings and desecrations of Qurans in European countries, including a recent incident on June 28, when Salwan Momika, a 37-year-old Iraqi refugee in Sweden, burned pages of the Quran in front of Stockholm's largest mosque during Eid al-Adha.
The incident drew international outrage from Muslim-majority countries and international organizations, including the Organisation of Islamic Cooperation (OIC) and the Gulf Cooperation Council (GCC).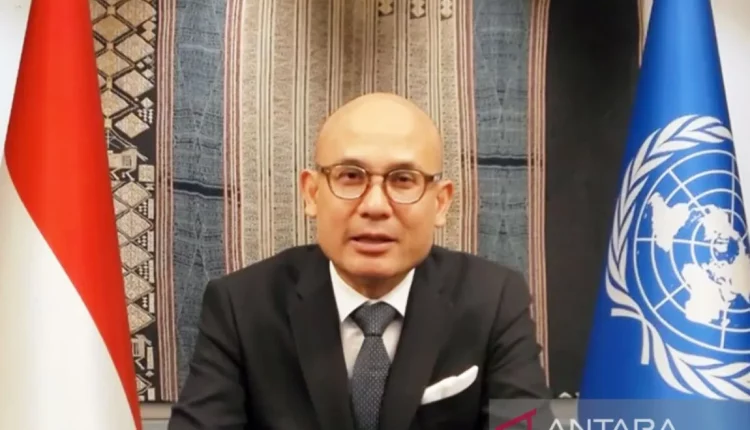 "Since the beginning, Indonesia has participated in overseeing the discussion and strengthening the OIC's position and interests in negotiating the draft resolution," Nasir said.
He emphasized that the resolution has become more important amidst the increasingly widespread forms of hate speech against Muslims.
The draft resolution of the General Assembly stated that it strongly deplores "all acts of violence against persons on the basis of their religion or belief, as well as any such acts directed against their religious symbols, holy books, homes, businesses, properties, schools, cultural centers, or places of worship, as well as all attacks on and in religious places, sites, and shrines in violation of international law."
Before the resolution was adopted, some countries proposed an amendment to the text.
Speaking for the European Union, Spain's representative voiced concern about the reference to violent acts against religious symbols and sacred books as a violation of international law.
She emphasized that although such actions are deeply offensive and disrespectful, they do not constitute a violation of international law. She then proposed eliminating the reference to "in violation of international law."
Meanwhile, some countries expressed support and joined the consensus. The representative of the Russian Federation, for instance, said he condemned the positions of those states that, instead of protecting the right to freedom of religion, are inciting such extremism and protecting extremists from punishment, according to a UN press release.
He then called on European countries to act in a "civilized fashion" and show tolerance and respect for all religions, it added.