Surabaya, Indonesianpost.com – In a truly remarkable development, Anies Baswedan and Muhaimin Iskandar, affectionately known as Cak Imin, have chosen the historic Hotel Yamato (formerly Hotel Majapahit) in Surabaya as the venue for their presidential and vice-presidential declaration today.
Read More: Democratic Party Disavows Anies Baswedan's Coalition over Running Mate Dispute
The selection of this iconic hotel carries profound symbolism, signifying the commencement of Anies-Cak Imin's journey toward victory in the 2024 Presidential Election.
Deputy Secretary-General of the PKB Central Executive Board, Syaiful Huda, shared the significance of this choice, saying, "The decision to opt for Hotel Majapahit, previously recognized as Hotel Yamato, is laden with historical importance. It was on this very ground that the spirited people of Surabaya exhibited extraordinary heroism by tearing down the Dutch flag, allowing the Indonesian flag to proudly unfurl across the archipelago."
Huda emphasized that Anies-Cak Imin's decision to run as presidential and vice-presidential candidate in the 2024 elections is a clear commitment to bringing about positive change for Indonesia. Both Anies and Cak Imin have presented well-defined programs aimed at enhancing and accelerating the nation's journey towards fairness, prosperity, and well-being.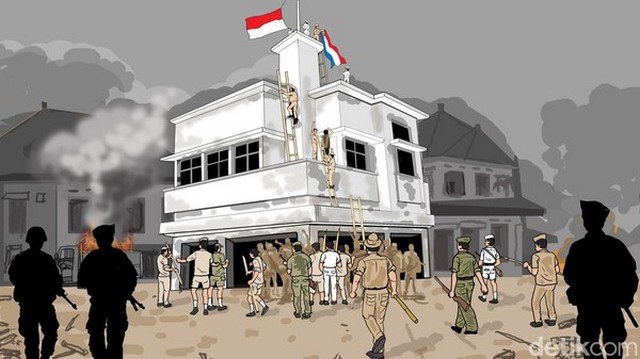 Read More: Here's the Schedule for the 43rd ASEAN Summit in Jakarta
"As we all know, over the past year, these two distinguished figures have consistently shared their innovative ideas and visionary concepts for a better Indonesia. These ideas and concepts will serve as their steadfast promise to the people of Indonesia," he declared.
Huda underscored that the path to a better Indonesia is laden with challenges. Yet, he highlighted the determination of Anies and Cak Imin, who are fully aware of the obstacles that lie ahead in the 2024 Presidential Election. Just like the brave people of Surabaya who were willing to make great sacrifices for the Indonesian flag, these leaders are steadfast in their resolve.
The announcement event for the Anies-Cak Imin pair will be a dignified and heartfelt occasion. It will feature speeches from Surya Paloh, the Chair of the NasDem Party, Cak Imin, the Chair of the PKB, and will conclude with an inspiring address by Anies Baswedan as the presidential candidate, followed by prayers from esteemed religious leaders in East Java.
Read More: Gerindra, PKB, Golkar, and PAN Officially Form Presidential Coalition for 2024 Elections
This exciting news heralds the beginning of an inspiring journey towards a brighter future for Indonesia, and we look forward to witnessing the success of the Anies-Muhaimin pair in the 2024 Presidential Election.