Indonesia Foreign Minister: ASEAN Plus Three Serves as an Anchor for Regional Stability, Resilience, and Sustainability
Jakarta, Indonesianpost.com – The Minister for Foreign Affairs of Indonesia, Retno Marsudi, and South Korean Foreign Minister, Park Jin, co-chaired the ASEAN Plus Three Foreign Ministers Meeting (South Korea, China, Japan) in Jakarta (13/7). In her opening remarks, Foreign Minister Retno emphasized the importance of the ASEAN Plus Three (APT) mechanism as an anchor for regional stability, resilience, and sustainability.
"APT has been our anchor for over 25 years to address immediate challenges within this region. Even more, APT always stands solid against all the odds of instability, shocks, and crises. Today, we must ensure that this anchor of ours can be even stronger in tackling global challenges filled with uncertainties," said Foreign Minister Retno.
Read more: ASEAN Urges 5 States to Sign Commitments to Never Using Nukes in Region
There are three objectives to be achieved.
First, for stability. Stability does not come by itself, but it needs to be continuously pursued and nurtured by those with the most vested interests in the region. All parties must contribute as positive forces.
"APT must uphold the paradigm of collaboration. We should not be part of the containment. Instead, we must sustain peace and security by respecting international law and pursuing the spirit of multilateralism," said Retno.
Therefore, APT must support ASEAN in building an inclusive regional architecture and implementing the ASEAN Outlook on the Indo-Pacific (AOIP) through concrete actions.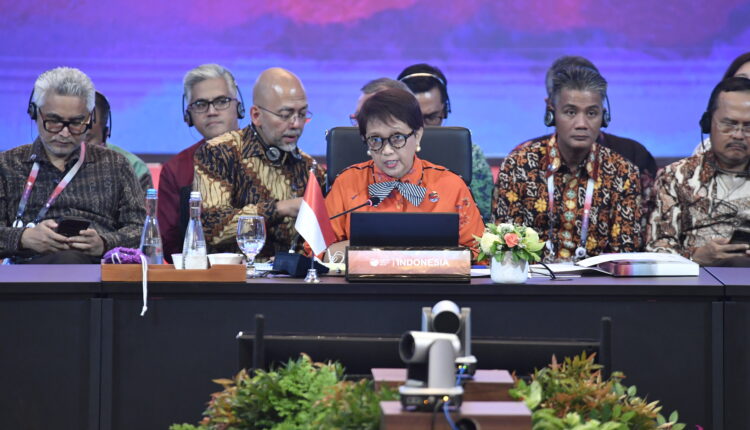 Read more: ASEAN Will Never Become Proxy to Major Powers: Indonesia
Secondly, for resilience. Regional mechanisms to strengthen resilience must be established. The Chiang Mai Initiative for Multilateralization should be more effective in responding to financial crises. The APT Emergency Rice Reserve (APTERR) should be enhanced to address supply chain disruptions in the future.
"APT must be part and parcel of ensuring our region is resilient against crises that may come knocking at our doors at any time," said Foreign Minister Retno.
Thirdly, for sustainability. APT must become an anchor for sustainable development. To achieve this, APT needs to be more innovative in adapting to climate change, reducing emissions, and accelerating energy transition. Furthermore, Foreign Minister Retno encourages APT to initiate cooperation in building electric vehicle ecosystems.
Read more: ASEAN must preserve credibility to maintain unity, centrality: Marsudi
"Let us make sure that APT can always be an anchor we rely on to survive, endure, and thrive," said Foreign Minister Retno.
Meanwhile, the meeting emphasizes the importance of APT's commitment to cooperation in promoting regional economic recovery and addressing future challenges. Therefore, a commitment is made to strengthen the ASEAN Plus Three Emergency Rice Reserve (APTERR) mechanism for food security and the Chiang Mai Initiative Multilateralization (CMIM).
The meeting also promotes strengthening trade and investment cooperation in enhancing MSMEs, supply chains, and connectivity. ASEAN also encourages the implementation of Free Trade Agreements (FTAs) with each of the Plus Three countries. Additionally, the meeting encourages the establishment of an electric vehicle ecosystem in the region.
Furthermore, this meeting emphasizes the importance of the principle of mutual respect in maintaining regional stability and peace. The meeting also discusses issues of denuclearization on the Korean Peninsula, combating transnational crimes, and the resolution of the crisis in Myanmar.
Source: Ministry of Foreign Affairs Indonesia