Prabowo Takes the Wheel: Intimate Moment with Jokowi, Iriana, and Erick Thohir at Pindad
Jakarta, Indonesianpost.com – A heartwarming moment was captured during President Joko Widodo (Jokowi), Defense Minister Prabowo Subianto, and State-Owned Enterprises Minister Erick Thohir's working visit to PT Pindad in Kabupaten Malang. Prabowo was seen driving, with Erick Thohir and Jokowi in the vehicle.
Read more: Luhut to Meet Tesla Boss Elon Musk Next Month
According to detikJatim, the moment occurred while they were on their way to Pindad's ammunition warehouse on Monday afternoon (July 24, 2023). Prabowo was seen driving the Ranops Maung vehicle, with Erick Thohir by his side. Meanwhile, Jokowi and Iriana Joko Widodo were seated in the back.
In fact, the camaraderie between Prabowo and Erick Thohir had already been observed when President Jokowi visited Pasar Bululawang in Kabupaten Malang before heading to Pindad.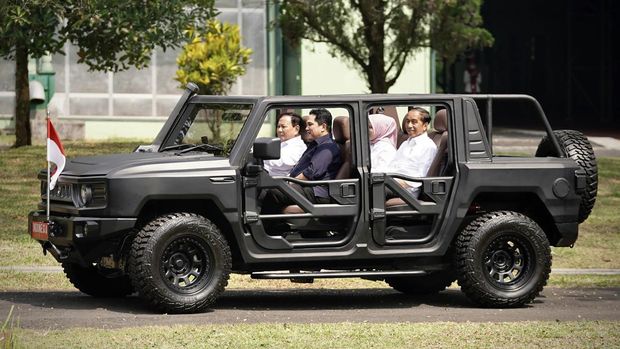 Journalists briefly mentioned the arrival of Prabowo and Erick Thohir, which was perceived as a potential presidential and vice-presidential pairing for the 2024 Presidential Election. Jokowi's smile widened upon hearing the question, and Prabowo and Erick Thohir also smiled broadly in response.
Read more: Traditional boat accident in Southeast Sulawesi claims 15 lives
"We are heading to Pindad in Kabupaten Malang, under the Ministry of State-Owned Enterprises, and Defense Minister Prabowo," said Jokowi at Pasar Bululawang, Malang.
"It's not related to the question," Jokowi continued, still smiling.